With so many microclimates and variations in terrain, it's no surprise that almost every corner of the world has its unique set of local weather patterns. Even within the same general area, there can be considerable differences in temperature and humidity from one valley to the next or one peak to the next.
Understanding how different conditions affect your clothing, gear, and overall experience can significantly improve your awareness and comfort when adventuring in nature. With that in mind, here's a quick introduction to some of the most common variations in weather you might encounter around the globe.

What is a Thunderstorm?
A thunderstorm is short-lived and accompanies characteristics such as lighting, thunder, heavy rain and hail, strong gusty winds, and dense clouds.
What is a Snowstorm?
A snowstorm is what comes to mind when you think of large amounts of snowfall. Snowstorms can cause strong gusts, and they can bring along a variety of dangerous conditions.
What is a Blizzard?
This is a snowstorm on steroids. A blizzard is a specific type of snowstorm that has extreme and powerful winds that can produce extremely low temperatures.
What is a Dust Storm?
Dust storms are particularly intimidating because they can be miles long and several thousand feet high. This storm is caused by strong winds pulled up from the ground, resulting in a dust storm.
What is a Tornado?
A tornado produces a mighty vortex of swirling air, usually accompanied by lightning and/or heavy rain. You'll usually find it attached to a thunderstorm that forms a funnel-shaped cloud. 
What is a Waterspout?
With similar characteristics to a tornado, waterspouts can move from water to land. They can be incredibly dangerous and cause serious damage to nearby vessels, coastal cities, and towns.
What is a Hurricane?
A hurricane is a type of tropical cyclone (a rotating system of low pressure) that is extremely powerful and can cause extreme damage, particularly to coastal areas. While hurricanes can occur anywhere in the world, they are most common in the Atlantic Ocean. Category 5 hurricanes (the strongest) can reach winds of up to 156 MPH.
What is a Cyclone?
Cyclones are large air masses that rotate counterclockwise in the Northern Hemisphere. In the Southern Hemisphere, they rotate clockwise. A cyclone is essentially the same thing as a hurricane, but the name differs depending on where they are located. You will find cyclones over the South Pacific and the Indian Ocean.
What is a Windstorm?
Windstorms can cause damage to powerlines and trees. They can be challenging to avoid, particularly if you are in a vehicle, and they can be very difficult to predict. Meanwhile, windstorms usually do not come with much rain or snow.
What is a Storm Surge?
A storm surge is a rise in the ocean water level that is caused by a tropical cyclone or hurricane. A storm surge can be extremely dangerous and can cause extreme damage to coastal areas, particularly when it combines with a high tide.
What is Fog?
Fog is a type of precipitation that does not reach the ground as rain or snow. Instead, it stays in the air as a cloud or haze.
What is Hail?
Hail is precipitation in the form of ice that falls from the sky, usually during a thunderstorm. It usually falls in the form of irregular pellets about the size of peas, but hail can range in size from dust-sized to baseballs.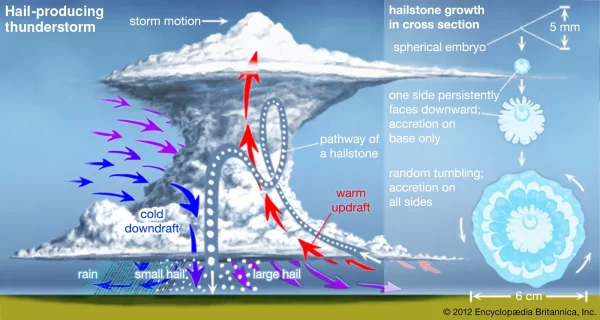 What is Frost?
Frost is a water vapor that becomes a solid. It forms on items such as windows, cars, and even plants outside. It's a thin layer of ice that forms on a solid surface.
What is Haze?
Haze consists of dry particles that give the air an opalescent appearance. It can be caused by dirt and dust in the air.
What is a Microburst?
A microburst is a sudden and very powerful air current. These are short-lived, lasting only 2-5 minutes but they can cause very destructive winds of up to 158 MPH.
What is a Drought?
A drought is a period of abnormally low rainfall that can last several weeks or even up to a decade. Droughts can cause a variety of problems, such as crop failure, water shortages, and an increased risk of disease.
What is a Flood?
A flood is a natural event that causes a large amount of water to flow in a short period of time. Floods can happen when there is a lot of rain at once, when a dam breaks or a levee is breached. Some floods are also caused by melting snow.
What is a Heat Wave?
A heat wave is a period of abnormally high temperatures lasting from a few days to a few weeks
What is Rainfall?
Rainfall is the amount of precipitation that falls from the atmosphere to the Earth's surface in a period of time. Precipitation can be measured in inches or millimeters.
Interested in measuring the weather at your location? Consider the KestrelMet 6000 or Kestrel 5500 portable weather station—two of the most accurate weather stations available today. Explore our line of weather stations to learn more.