Keeping tabs on local weather patterns is critical for a variety of reasons. Not only does forecasting help plan your day, but it can keep you safe from heat stress or dangerously cold temperatures.
If you're an avid hiker, camper, snowboarder, or outdoor enthusiast, a weather station can be useful when tracking conditions and creating a schedule. Meanwhile, farmers and scientific researchers also greatly benefit from using weather stations.
While many weather stations come with a computer or phone app for data tracking and visualization, it's still helpful to understand how the station itself works. But what is a weather station, anyway?
What is a Weather Station?
A weather station is an instrument that collects data relating to weather and climate conditions. The data collected by weather stations are often used to forecast future weather patterns. While there are numerous types of weather stations in use across the globe, they all have one thing in common: collecting data.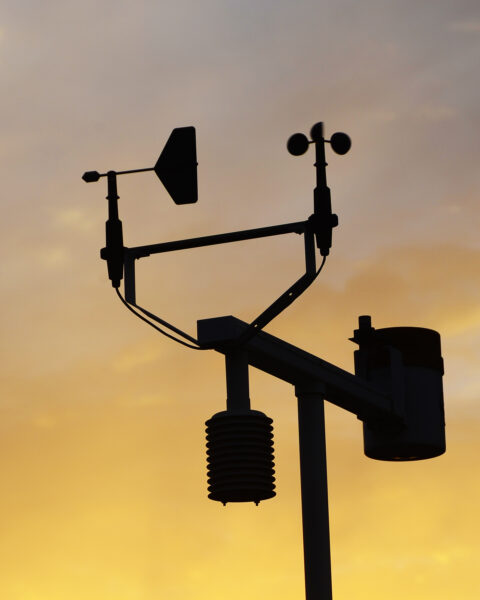 Most weather stations use sensors to collect wind speed and direction data, temperature, humidity, atmospheric pressure, rainfall, and more. Some weather stations even use barometers to measure air pressure, which helps predict changes in weather patterns. Weather stations are typically installed outside, though some are designed for indoor use as well.
Keep in mind that while weather stations all collect data, some do it more accurately (and better) than others.
How Do Weather Stations Work?
Weather stations come with various sensors that measure various weather conditions such as temperature, humidity, wind speed, rainfall, and much more. There are cabled weather stations and wireless ones. Cabled weather stations are often much more challenging to install, and severe weather conditions can damage the wires. Wireless weather stations are much easier to install since there is no need to connect complicated cables. They are also less likely to be damaged by severe weather. However, wireless stations and may require batteries that need to be regularly replaced.
The sensors are connected to a central unit that processes the data and sends it to the cloud via a wireless connection. This way, you can log in to your computer and see the data collected by your weather station almost in real-time. Some weather stations come with a built-in computer that processes the data and sends it to a nearby computer via a wireless connection. The data is logged in a database format and is often accompanied by a timestamp.
Different Ways to Measure the Weather and Climate
There are many different types of weather stations, each designed to measure different aspects of the weather. The most basic weather stations simply measure temperature, humidity, and barometric pressure. More sophisticated stations also measures things like wind speed and direction, rainfall, and solar radiation. Here are a few different types of ways to measure the weather and climate:
– Anemometer – This measures the wind speed and is often combined with a gust meter that records the highest wind speed during a certain period.
– Hygrometer – Measures the level of humidity in the air.
– Thermometer – A thermometer measures the temperature of the air.
– Rain gauge – This measures the amount of rainfall that's fallen over a certain period.
– Barometer – This measures the atmospheric pressure in your immediate area.
– Solar panels – These are used to power weather stations that are designed for outdoor use.
Accurate Weather Forecasting: Be Mindful of Setup
Accurate weather data is essential, but so is the setup of the sensors that collect that data. You need to make sure that the sensors are in the right location and correctly mounted to collect data.
You also need to ensure that the sensors are not blocked by large obstructions such as buildings or trees. Meanwhile, you will have to tend to maintenance tasks such as:
Getting into a maintenance routine and clean your weather station every 2-to-3 weeks
Monitor the rain bucket
Clean the solar radiation sensor
Clean the solar panels
Check the leaf wetness sensor for damage
How to Pick the Right Weather Station for You
Are you concerned about the accuracy of your weather tracking? The best way to be sure about your weather station's accuracy is by considering Kestrel weather meters. Two of our favorite picks include:
The KestrelMet 6000 is a high-end weather station with a variety of sensors. With this station, you can monitor indoor and outdoor temperature and humidity, UV, wind speed, barometric pressure, and much more.
You can set up notifications for extreme weather conditions, like high winds or UV levels. This station is one of the most accurate on the market, with impeccable accuracy. You can view data on a variety of devices, such as a computer, tablet, or smartphone.
The Kestrel 5500 Weather Meter is an extremely accurate portable weather station that can be used both indoors and outdoors. It measures everything from wind speed and barometric pressure to heat index and it records all the information in a detailed report that can be accessed via the Kestrel LiNK app. The Kestrel 5500 Weather Meter is one of the most accurate weather stations on the market, and it is trusted by farmers, backyard weather enthusiasts, and meteorologists alike. Ideal for when you need a portable weather monitoring device.