Weather data plays a crucial role in various industries, including agriculture, transportation, energy, construction, and tourism. Each industry has its own unique needs when it comes to tracking the weather. When it comes to historical and hyper-local weather station data for business, KestrelMet 6000 is the go-to weather station.
KestrelMet 6000 is a highly accurate weather meter that measures various environmental parameters, such as temperature, humidity, wind speed, barometric pressure, and more. It's a versatile device that's ideal for outdoor enthusiasts, hikers, hunters, and professionals who need accurate weather information on-the-go. KestrelMet 6000 is rugged, waterproof, and easy to use, making it a reliable choice for demanding outdoor activities.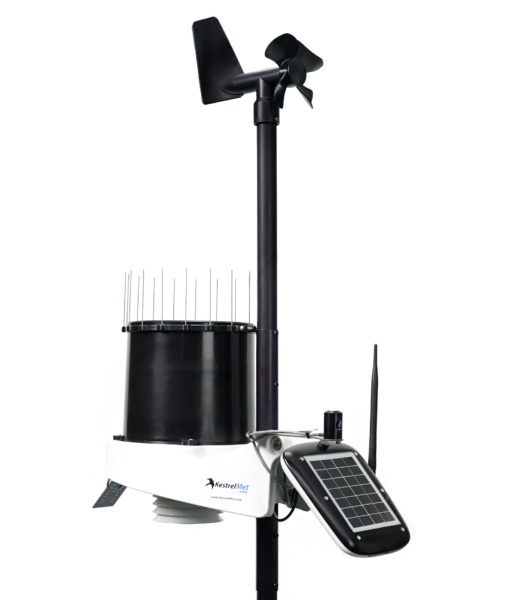 With the KestrelMet 6000, users can also access real-time weather data on Ambient Weather Network online. Ambient Weather Network is a free online service that provides access to weather data from thousands of personal weather stations worldwide. Users can view current weather conditions, forecasts, and historical data from their own KestrelMet 6000 or other weather stations in their area.
Below are many ways that businesses can harness the powerful technology of KestrelMet 6000.
Weather Data for Travel and Vacation Business
Weather data is crucial for travel and vacation businesses as it can significantly impact the travel experience of their customers. Accurate weather forecasts help travelers plan their trips, pack appropriate clothing, and participate in outdoor activities. By providing accurate and up-to-date weather information, travel and vacation businesses can enhance their customers' travel experience, increase satisfaction, and manage their resources effectively.
Plan outdoor activities: Travel and vacation businesses can use weather data to plan outdoor activities for their customers. For instance, a tour company can schedule guided hiking trips on days with mild temperatures and clear skies.
Adjust travel itineraries: Weather data can help travel companies adjust their itineraries to ensure that their customers have the best possible experience. For example, a cruise ship may change its course to avoid bad weather conditions.
Prepare for extreme weather conditions: Travel companies can use weather data to prepare for extreme weather conditions such as hurricanes, tornadoes, or blizzards. By monitoring weather patterns, they can take appropriate precautions to ensure the safety of their customers.
Enhance customer experience: By providing accurate and up-to-date weather information, travel and vacation businesses can help their customers make informed decisions, enhance their travel experience, and increase customer satisfaction.
Weather Data for Events Management
Event management companies rely on weather data to plan and execute successful events. This involves choosing appropriate dates and venues, monitoring weather conditions during the event, and even using weather data for marketing purposes.
KestrelMet 6000 can help event management companies make informed decisions about rescheduling or moving events to indoor venues. They also assist in making adjustments during the event to ensure the comfort and safety of attendees. Meanwhile, the Ambient Weather Network can provide a centralized platform for storing and analyzing weather data. This allows us to better plan and execute future events based on historical weather patterns.
Weather Data for the Marketing and Advertising Industry
Weather data is becoming increasingly important in the marketing and advertising industry. This is because companies look to tailor their campaigns and strategies based on current and upcoming weather conditions.
Marketing and advertising companies can use weather data to advertise products or services that help consumers cope with extreme weather conditions. This includes air conditioning during heatwaves or winter clothing during cold snaps. They can also promote seasonal products based on weather patterns, such as sunscreen during the summer or snow tires during the winter.
Weather data can be used to adjust advertising schedules based on forecasts to ensure maximum exposure and return on investment. Furthermore, weather data can target specific geographic locations with weather-sensitive ads, such as ads for rain gear in areas experiencing heavy rainfall.
Weather Data for Construction & Building
Construction and building projects rely heavily on weather data. Extreme weather conditions such as high winds, heavy rain, or extreme temperatures can severely impact construction. Weather can deter schedules, pose safety hazards, and compromise the integrity of the building. Therefore, it is essential to have accurate and up-to-date weather information to plan and execute construction projects successfully.
Here are some examples of how construction and building companies use weather data:
Making informed decisions about when to start and stop work on construction projects based on weather conditions.
Adjusting project timelines based on predicted weather patterns to ensure that projects are completed on time.
Ensuring the safety of workers on construction sites by monitoring and responding to extreme weather conditions.
Selecting building materials and designing structures that can withstand extreme weather conditions.
Monitoring soil moisture levels to ensure that excavation and foundation work can be carried out safely and effectively.
Managing the impact of weather conditions on concrete pouring and curing.
Ensuring proper installation and sealing of roofing materials to prevent water damage.
Monitoring the impact of temperature and humidity on the installation and performance of insulation and HVAC systems.
Planning for and mitigating the impact of extreme weather events such as hurricanes, tornadoes, and floods.
Analyzing historical weather data to identify patterns and trends that can inform future construction projects.
Weather Data for Agriculture
Weather data plays a vital role in agriculture. This data is key to helping farmers optimize their operations and increase crop yields. The data allows for planning planting and harvesting schedules, managing irrigation and fertilization, and protecting crops from pests and diseases. Furthermore, weather data allows farmers to anticipate extreme weather events such as droughts, floods, and storms and take proactive measures to minimize losses.
Other ways that KestrelMet AG weather stations helps with weather data for agriculture include:
Planning planting and harvesting schedules based on weather forecasts
Managing irrigation and fertilizer application based on weather conditions
Protecting crops from pests and diseases by monitoring weather patterns
Anticipating extreme weather events and taking proactive measures to protect crops
Making decisions about when to apply herbicides and pesticides based on weather conditions
Analyzing historical weather data to identify patterns and trends that can inform future crop management strategies
Weather Data for Logistics Companies
Accurate weather forecasts help logistics companies manage their routes, schedules, and inventory by providing real-time information about potential disruptions. This includes weather such as storms, hurricanes, and snowfalls. This information enables logistics companies to adjust their plans and make informed decisions to avoid delays, reduce costs, and maintain customer satisfaction.
These are some examples of how logistics companies can rely on weather stations like Kestrel:
Plan and optimize routes for transportation based on weather conditions
Adjust schedules to avoid potential disruptions caused by extreme weather events
Monitor temperature and humidity levels to ensure the safe delivery of temperature-sensitive products
Predict and prevent damage to cargo caused by severe weather conditions such as storms, hurricanes, and floods
Analyze historical weather data to identify patterns and trends that can inform future logistics planning
Use real-time weather data to make informed decisions about inventory management and order fulfillment
Collaborate with weather data providers to develop customized weather risk management solutions and contingency plans
Weather Data for Utilities & Power
Extreme weather events, such as hurricanes, floods, and blizzards, can cause power outages and disrupt the delivery of essential services. Weather data can be used to predict and prepare for such events. The biggest benefit is enabling power companies to pre-position equipment and personnel, secure supply chains, and communicate potential outages to customers.
Utilities and power companies can leverage weather data in the following ways:
Predicting and preparing for extreme weather events, such as hurricanes, floods, and blizzards
Pre-positioning equipment and personnel in anticipation of weather-related disruptions
Securing supply chains to ensure the delivery of essential services during extreme weather events
Communicating potential outages to customers in advance of a weather event
Optimizing energy generation and transmission based on weather conditions, such as wind and solar power potential
Monitoring temperature and humidity levels to prevent equipment failures and ensure efficient performance
Managing demand response programs based on weather forecasts to balance energy supply and demand
Conducting risk assessments and developing contingency plans for weather-related disruptions
Analyzing historical weather data to identify trends and patterns that can inform long-term planning and decision-making.
Weather Research
Weather research is crucial for understanding and predicting atmospheric behavior and its effects on human life and the environment. It helps identify the causes and effects of climate change, develop accurate weather forecasts, and improve resource management and disaster response. The KestrelMet 6000 and Ambient Weather Network are two powerful tools that weather researchers can use to gather and analyze weather data.
Consider KestrelMet6000 for Hyper-Local Weather Station Data for Business
The KestrelMet 6000, KestrelMet 6000 AG, and Ambient Weather Network provide accurate and reliable weather data that businesses and researchers. Data from both devices can help predict and prepare for adverse weather conditions, optimize energy production, transportation, and construction projects. This leads to increased efficiency, improved safety, and better outcomes. Consider KestrelMet6000 for a range of purposes in business.