Severe weather events such as hurricanes, tornadoes, floods, and wildfires can have devastating impacts on local communities. These events can cause significant damage to infrastructure, homes, and businesses, disrupt essential services, and even result in loss of life.
However, Local governments have a critical role to play in responding to these events, mitigating their impacts, and ensuring the safety of their citizens.
Weather networks play a crucial role in helping local governments manage severe weather events. With real-time data on weather conditions, these networks can help officials make informed decisions about emergency response efforts, evacuation orders, and resource allocation.
KestrelMet 6000: Powerful Tool for Gathering Government Weather Data
One tool that can be particularly useful for gathering accurate weather data is Kestrel weather meters and KestrelMet 6000 Weather Stations. These rugged weather stations can measure a range of environmental conditions, including temperature, humidity, wind speed, and barometric pressure.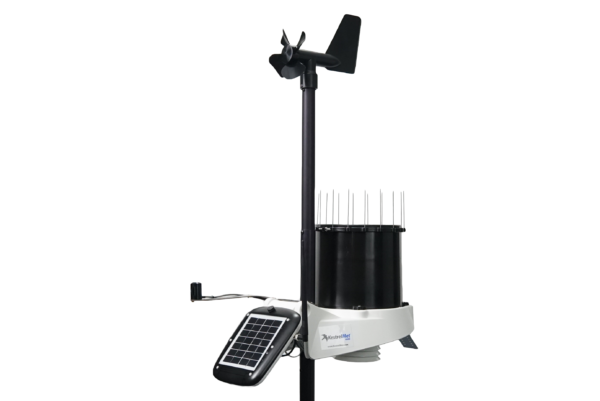 Because they are accurate and easy to use, Kestrel can quickly gather critical data to inform emergency response efforts. With the help of weather networks and tools like KestrelMet weather stations, local governments can better prepare for severe weather events and minimize their impacts on communities.
Navigating Transportation During Severe Weather with Weather Networks
Weather networks and weather station data are excellent aids for managing transportation during severe weather. By gathering real-time data on temperature, humidity, wind speed, and precipitation, weather networks help predict and prepare for adverse weather conditions.
This information offers clues about when to close roads, highways, and airports. It also is useful for learning when to deploy resources such as snowplows and sand trucks.
Transportation Challenges During Severe Weather: Government and Public Sector
From high winds to hail and fog, there are plenty of weather-related challenges in the transportation industry. Here are some examples of transportation challenges during severe weather:
Snow and ice accumulation on roads and highways can make driving hazardous and increase the risk of accidents.
High winds can cause trees and power lines to fall, blocking roads and disrupting traffic.
Heavy rain can cause flooding, making some roads impassable and forcing drivers to take longer routes.
Fog can reduce visibility, making it difficult for drivers to see other vehicles, pedestrians, and road signs.
Extreme heat can cause road surfaces to buckle and crack, leading to road closures and traffic congestion.
Thunderstorms and lightning can create dangerous driving conditions, especially for drivers of high-profile vehicles such as trucks and buses.
Hurricanes and tornadoes can cause widespread damage to transportation infrastructure, including roads, bridges, and airports, disrupting travel and commerce for days or even weeks.
Utilities and Severe Weather
Weather data plays a crucial role in helping local governments manage utilities during severe weather. Accurate and up-to-date weather information is necessary to prepare for and respond to extreme weather events, such as hurricanes, blizzards, and floods.
Weather stations can anticipate changes in weather patterns. This allows them to take the steps to protect utilities such as power, water, and gas. The ability to access weather data informaion remotely is crucial. This is possible with Ambient Weather Network (AWN).
Some examples where KestrelMet weather station data information can assist include:
Power outages due to downed power lines or trees
Frozen pipes that can cause water service disruptions
Flooding that can damage water treatment plants and distribution networks
High winds that may damage gas distribution networks and cause gas leaks
Heavy snowfall where it's difficult to access utility infrastructure for repairs
Lightning strikes that can damage power transformers and other equipment
Storm surges that can damage coastal water infrastructure, such as desalination plants and wastewater treatment facilities
Extreme temperatures that may cause equipment failures and increase demand for utilities.
Wastewater Management
Heavy rainfall, flooding, and other types of severe weather can cause significant strain on wastewater treatment plants and distribution networks.
Monitoring weather forecasts and data from weather stations, local governments can anticipate potential disruptions to wastewater services and take proactive measures to minimize the impact of severe weather.
This monitoring can help with the following challenges:
Heavy rainfall can cause wastewater treatment plants to become overloaded, leading to backups and spills.
Flooding can damage wastewater infrastructure, such as pipes and pumps, leading to service disruptions and contamination.
Power outages can prevent wastewater treatment plants from operating, causing untreated wastewater to be released into the environment.
High winds can damage treatment plant structures and equipment, leading to additional maintenance and repair costs.
Cold temperatures can cause wastewater to freeze in pipes and treatment systems, leading to blockages and equipment failures.
Storm surges can inundate wastewater treatment plants located near coastlines, causing damage and contamination.
Snow and ice can make it difficult for wastewater treatment plant operators to access and maintain critical infrastructure.
Managing Mosquito Abatement During Severe Weather
Mosquitoes thrive in warm, humid conditions, and severe weather events such as heavy rainfall. Local governments can anticipate when conditions are likely to become favorable for mosquito breeding and take proactive measures to control mosquito populations. This is all with the help of Kestrel weather meters.
Some examples of how Kestrel weather meters and KestrelMet weather stations can help with mosquito abatement in severe weather include:
Heavy rainfall can create standing water, which is an ideal breeding ground for mosquitoes.
High winds and flooding can displace mosquitoes from their natural habitats, leading them to seek out new breeding sites in populated areas.
Drought conditions can lead to the formation of small, stagnant pools of water, which can become prime breeding grounds for mosquitoes.
Extreme heat can cause mosquito populations to increase rapidly, as mosquitoes thrive in warm, humid conditions.
Severe weather can disrupt mosquito control efforts, making it more difficult for local governments to manage mosquito populations effectively.
Severe weather can also lead to an increase in the frequency of mosquito-borne diseases, such as West Nile virus and Zika virus, as mosquitoes are more likely to come into contact with infected individuals during and after severe weather events.
Parks & Recreation
Weather networks and weather station data can be incredibly useful tools for local governments managing parks and recreation facilities during severe weather.
Some of these severe weather instances may include the following:
Flooding of park facilities and infrastructure
Damage to park structures and equipment
High winds causing falling trees or limbs
Lightning strikes posing a safety hazard to visitors
Extreme heat or cold putting visitors at risk of heat stroke or hypothermia
Heavy snowfall or ice accumulation making park roads and trails impassable
Severe thunderstorms or tornadoes requiring evacuation of park visitors
Wildfires posing a threat to park facilities and visitors
Hurricanes or tropical storms causing widespread damage to park infrastructure and facilities
It is the responsibility of local governments and public safety officials to take all necessary measures to protect the public during these events. This may involve closing public spaces such as parks and recreation facilities, providing emergency shelter and supplies to those in need.
Wildfire Management
Wildfires are often caused by a combination of dry conditions, high temperatures, and strong winds. Weather station data can provide real-time information on these conditions, allowing local governments to monitor and predict the likelihood of wildfires in their areas. This information can be used to issue warnings to the public, close parks and other public spaces. It can also mobilize fire crews and resources to areas at risk of wildfire.
Kestrel weather monitoring can help detect the following conditions related to wildfire management:
High temperatures that increase the risk of fires starting
Dry conditions that create fuel for fires to spread
Strong winds that can quickly spread fires over large areas
Limited resources and personnel to fight fires during severe weather events
Evacuation of residents and animals from affected areas can be challenging and time-consuming
Smoke from wildfires can pose health risks to residents in affected areas
Damaged infrastructure, such as power lines and roads, can make it difficult for firefighters to access and contain fires
Limited visibility due to smoke and ash can make it difficult for firefighters to assess the extent of fires and plan their strategies accordingly.
Emergency Management
Effective emergency management is crucial for government entities to ensure the safety and well-being of their citizens, protect critical infrastructure, and maintain public trust and confidence during times of crisis. By leveraging these tools and resources, local governments can better protect their communities during severe weather events, and ensure that residents are informed, prepared, and safe.
Examples of severe weather events include:
Flooding: Heavy rainfall can cause flooding, which poses a significant risk to life and property. Floodwaters can damage homes, businesses, and infrastructure, and can also cause injuries or fatalities.
High winds: Severe weather events such as hurricanes and tornadoes can bring strong winds, which can cause damage to buildings, homes, and other structures. Falling trees and debris can also pose a significant risk to public safety.
Power outages: Severe weather events can knock out power lines and cause widespread power outages. This can be particularly dangerous for people who rely on electricity for medical equipment or heating and cooling.
Transportation disruptions: Severe weather events can disrupt transportation networks, making it difficult or impossible for people to travel to work, school, or medical appointments. This can also impact emergency responders, making it more challenging to provide assistance to those in need.
Communication breakdowns: Severe weather events can cause communication breakdowns, making it challenging for emergency responders to communicate with each other and with the public. This can lead to delays in response times and an increased risk to public safety.
Severe weather events can have devastating impacts on local communities, causing significant damage to infrastructure, homes, and businesses, disrupting essential services, and even resulting in loss of life. Tools like Kestrel weather meters can gather accurate weather data that can inform emergency response efforts. Explore the line of KestrelMet weather stations to learn more. Visit www.KestrelMet.com.