When choosing a weather station, there are several considerations to keep in mind. Many types of weather stations have varying capabilities, price points, and accuracy levels. Whether you're just beginning to research weather stations or you're trying to decide on your final purchase, this FAQ can help!
What are the Different Types of Weather Stations?
There are a variety of weather stations available, each with its unique features and capabilities:
Personal Weather Stations 
Compact and user-friendly, these provide real-time temperature, humidity, wind speed, and more updates.
Professional Weather Stations
Ideal for commercial, industrial, or meteorological use, these stations offer advanced features like high-precision sensors and remote data access. KestrelMet 6000 is an excellent example of both a professional and personal weather station!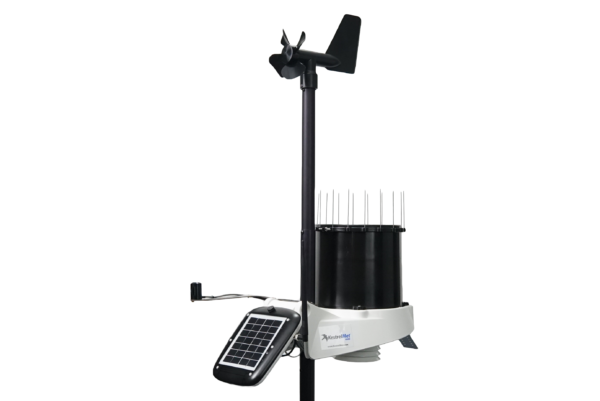 Aviation Weather Stations
Used by pilots and air traffic controllers, these stations provide data crucial for flight safety, such as temperature, wind speed, and visibility.
Marine Weather Stations
These weather stations, perfect for use on boats and ships, provide information essential for sailing conditions.
WiFi and Cellular Weather Stations
Compact, lightweight, and perfect for field use. KestrelMet 6000 is a prime example, coming with its own cellular network.
Where Should Weather Stations Be Placed for Optimal Performance?
For best performance, weather stations should be placed on level ground that isn't rock or concrete. To get the most accurate readings possible, position the weather station at 7-10′ times the height of the nearest obstruction, respectively.
Weather Station Data Transmission: Cellular or Wi-Fi?
The choice between a Wi-Fi or cellular unit depends on your specific needs. Wi-Fi Weather Stations are great for those with stable internet, offering high-resolution displays and data accessibility from anywhere with an internet connection.
Cellular Weather Stations use independent cellular networks to transmit data and are perfect for areas with limited Wi-Fi coverage or rural research projects.
What Sensors are Needed for a Weather Station?
A good quality weather station typically includes various sensors for measuring atmospheric conditions:
Barometer – Forecasts weather changes by measuring atmospheric pressure.
Hygrometer – Determines the moisture level in the air.
Thermometer – Keeps track of and records temperature changes.
Wind Vane – Measures the speed and direction of the wind.
Rain Gauge – Records the amount of rainfall over a set period of time.
How Long Do Weather Stations Last?
The lifespan of a weather station can vary between 5 to 20 years or more, depending on the quality and the climate where it's installed. Its lifespan can be affected by factors like exposure to extreme temperatures, humidity, and weather events.
However, regular maintenance and calibration can help extend the life of a weather station. For durability and longevity, consider robust products like the Kestrel series.
Are Weather Stations Difficult to Install?
Installation difficulty varies depending on the model. Many home weather stations are designed for easy self-installation, and they typically come with detailed instructions. However, professional-grade stations may require more technical expertise or professional installation to ensure accurate data collection and transmission.
If you are worried about installation, it helps to select a weather station that is known for its intuitive installation process. For example, KestrelMet6000 is a quick and easy setup right out of the box. There isn't much to do rather than a few simple steps and enjoying your new weather station!
How Do I Maintain My Weather Station?
Maintenance steps can vary depending on the model and manufacturer's instructions. General maintenance tips include:
Cleaning your weather station regularly to prevent dust or debris accumulation.
Checking for corrosion.
Ensuring sensors are functioning correctly.
Remember to calibrate your device periodically to guarantee accurate readings.
Are Weather Stations Costly?
The cost of a weather station depends on its features, brand, and type. Basic home weather stations can be quite affordable, while professional-grade stations with advanced features and high precision tend to be more expensive. It's important to balance your budget with your specific needs when choosing a weather station.
Some very basic weather meters are available for $50, while robust professional-grade weather stations can cost hundreds or even thousands.
The good news is that you do not need to spend excessive amounts of money for a professional grade weather station! In fact, KestrelMet 6000 is one of the most affordable options on the market. This device is used by meteorologists and researchers all over the world with a reputation for superior accuracy.
Can Weather Stations Be Connected to Other Devices?
Yes, many modern weather stations can connect to other devices. Wi-Fi weather stations, for instance, allow you to access real-time data from your smartphone, tablet, or computer. Some models can also connect to third-party services like Weather Underground or Ambient Weather Network for additional data analysis and storage.
Are Weather Stations Accurate?
The accuracy of a weather station depends on the quality of its sensors and its installation location. High-quality stations from reliable manufacturers tend to provide highly accurate readings. Correct installation, away from obstructions that could interfere with sensor readings, also ensures data accuracy.
When you want on-point accuracy for your weather station, consider the Kestrel series. Ranging from hand-held devices like the Kestrel 5500 weather meter to robust weather stations such as the KestrelMet 6000, you have options that you need for accurate weather reporting.