Weather plays a crucial role in our lives, dictating everything from agricultural operations to planning our day. For these reasons, having access to accurate, reliable weather data is imperative. Professional-grade weather stations are designed to deliver just that! 
It's no secret that many personal weather stations are on the market. How do you know the right weather station for your needs as a weather enthusiast? 
The truth is that there is a lot to consider when selecting a personal weather station. Among the leading names in this field are KestrelMet, Davis, and Campbell Scientific. Let's take a closer look at how they stack up. 
KestrelMet 6000 Weather Stations: Reliable, Affordable, and User-Friendly 
When you need professional-grade meteorological data at an unbeatable price, KestrelMet is the name to trust. This weather station offers accuracy, durability, and convenient remote data access. 
Designed to withstand even the harshest conditions, the KestrelMet 6000 measures wind speed, direction, barometric pressure, relative humidity, temperature, rainfall, leaf wetness, solar irradiance, soil moisture, and temperature.  
The KestrelMet Wi-Fi connectivity allows transmission up to 1000 ft, enabling data access from the Ambient Weather Network online dashboard and app. Ambient Weather Network is quickly overtaking Weather Underground as the largest online connected weather network. 
Whether you're looking for a solution for residential, commercial, industrial, or meteorological applications, KestrelMet's ease of installation and accurate readings make it a top pick. 
If a fixed weather station is beyond what you need, consider smaller portable models such as the Kestrel 5500 Weather Meter. This is a hand-held device with a lot to offer, including the same accuracy for weather monitoring. 
Davis Vantage Vue: Fast and Solar-Powered 
Davis Vantage Vue proves that when it comes to meteorological monitoring, there's no need to compromise speed for accuracy. This weather station updates 10x faster than its competitors, delivering wind speed updates every 2.5 seconds, and temperature and humidity updates every 10 seconds. 
Beyond speed, the Vantage Vue boasts a range of industry-leading specifications, including a self-emptying rain gauge, a radiation shield for temperature and humidity readings, and a built-in bubble level for optimal installation. Its frequency-hopping, spread-spectrum radio ensures data transmission up to 1,000 ft. 
The device is solar-powered. Thanks to its corrosion and UV-resistant cover, the Vantage Vue is engineered to last.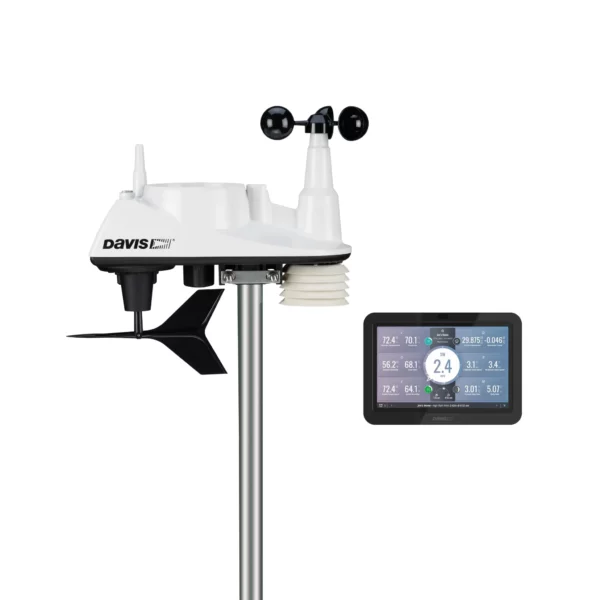 Campbell Scientific: Customizable Yet Costly 
For those who want a high-end (and pricey) weather station, Campbell Scientific offers customizable feathers that cater to very specific needs. Whether your application focuses on water quality, meteorology, greenhouse gas fluxes, solar energy, bridge structure, or soil moisture, Campbell Scientific has a solution that fits. 
These systems might come with a higher price tag, but they provide the measurement data and control options required for the most demanding applications. With both prepackaged and customized systems available, Campbell Scientific is dedicated to delivering a solution that works best for your unique situation. 
Consider KestrelMet for Your Personal Weather Station 
Professional-grade weather stations are a worthy investment for any organization that relies on meteorological data. KestrelMet, Davis, and Campbell Scientific each offer reliable, high-quality options that cater to different budgets and requirements. When you want the perfect balance of cost, accuracy and functionality, Kestrel is the ideal professional grade weather station. Be sure to check out the line of Kestrel personal weather stations for more information.