A home weather station is an invaluable tool for anyone interested in monitoring the weather. It is a tool for accurately measuring temperature, humidity and wind speed in your area, as well as the barometric pressure. Home weather stations are becoming increasingly popular, and the benefits they offer are many.
Weather stations have become increasingly popular for a number of reasons. They provide real-time and accurate information about local weather conditions, which is useful for planning daily activities. Meanwhile, they inform you about severe weather conditions, such as hurricanes, tornadoes, and thunderstorms, which can be life-threatening.
Best of all, home weather stations are becoming more accessible and affordable. Advancements in technology have made it possible to connect weather stations to apps like the Ambient Weather Network, allowing people to view weather data on their smartphones and other devices.
Overall, weather stations offer convenience, safety, and peace of mind, making them a valuable investment for those who love spending time outdoors. They're also ideal for those who simply want to stay informed about the weather. If this sounds like you, read on to learn the top reasons for getting a weather station.
1. On-Point Accuracy of Weather Data
The first benefit of buying a home weather station is that it allows you to get readings of weather conditions in real time. For example, KestrelMet weather stations are one of the most reliable home weather station options available. These instruments provide accurate readings of temperature, humidity, wind speed and barometric pressure. An array of other readings are available, depending on the model you choose.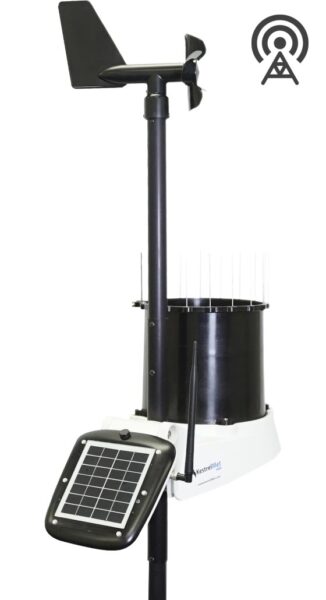 Having this information allows you to plan your outdoor activities accordingly, such as gardening or even farming. But keep in mind that not all weather stations offer the same level of accuracy. Lower grade weather station models will likely not be as accurate as KestrelMet 6000 or Ambient WS-5000.
2. Monitoring Weather Online via Ambient Weather Network
Monitoring the weather online via the Ambient Weather Network i(AWN) s an increasingly popular hobby among weather enthusiasts. Home weather stations are becoming more and more sophisticated, allowing users to customize their own weather data and have access to real-time readings.
Furthermore, home weather stations can be connected to the Ambient Weather Network, which can then be monitored online or via the AWN app by the user. You can enjoy an ad-free weather network, enhanced by a powerful network of weather stations reporting hyperlocal weather conditions.
Using the Ambient Weather Network, users can access a variety of weather-related information such as temperature, barometric pressure, wind speed, and humidity. You can use the online dashboard or app to access to alerts and forecasts. This makes it easy to stay on top of any changes in the environment.
3. Track Conditions for Outdoor Activities
Tracking the weather is important to ensure that you can make the most of outdoor activities. Knowing the forecast allows you to plan accordingly and avoid disappointment.
By keeping an eye on the weather, you can choose activities that are suitable for the conditions, whether it's sunny and warm, rainy, or cold and snowy.
Some outdoor activities that rely on the weather include:
Hiking
Camping
Fishing
Swimming
Beach volleyball
Gardening
Outdoor picnics
4. Enjoy a New Hobby with Weather Monitoring
Finally, owning a home weather station can be a fun hobby. Watching the weather can be a great way to relax and learn more about the environment. Home weather stations can also be used to track and observe changes in the weather over time, which can provide valuable insight into climate change and its effects.
Owning a home weather station is a great way to stay informed about the weather no matter where life takes you. KestrelMet 6000 is a reliable, rugged and durable home weather station that tracks current conditions. You'll never need to second guess its accuracy, as it's engineered to track and store weather data even in the most remote locations. Besides being configured right out of the box, KestrelMet 6000 is also very easy to use. When you choose to invest in a home weathers station for yourself, consider KestrelMet 6000.