Looking for the perfect professional weather station to suit your needs? There are many options and and tons of information to sift through when choosing your weather station. We'll cover all the features and functions to look for in a weather station.
| | Hobo | Davis | KestrelMET |
| --- | --- | --- | --- |
| 1st Year Cost | $1,754 | $1,855 | $1,299 |
| 3 Year Cost | $2,006 | $2,295 | $1,399 |
| Warranty | 1 Year | 1 Year | 2 Year |
| Configuration Time | 20 Mins | 45 Mins | 5 Mins |
| Installation Time | 45 Mins | 60 Mins | 20 Mins |
As you can see, there are big differences in cost and setup time for weather stations in the same commercial class.  There are also differentiating product features, such as aspirated temperature and RH sensors, which are not available on the HOBO platform.  This guide will walk you through everything you need to know about buying a new commercial-grade weather station and the details behind the summary data!  Our team of experts has done all the research so you don't have to.
For this review, we'll go over three of the top choices in rugged, quality, cellular weather stations. We'll provide details on each weather station and cover the following:
Cellular vs W-Fi
Online Ordering Experience
Set Up & Installation
Sensors & Features
Weather Stations for Onsite Conditions Monitoring
We prefer cellular weather stations for ultimate data reliability, ease of setup, and flexibility in siting location. There are many benefits to choosing a cellular weather station over a traditional wifi weather station or a weather service like weather.com, dark sky, and wunderground.
The weather reports you see in a weather app or website use data from NOAA weather stations. Unless you live next to an airport or NOAA site, the weather data displayed for your location is coming from a station several miles away. Many factors contribute to determining the local atmospheric conditions such as surrounding terrain like mountains, trees, and proximity to water. There can be a huge difference in a general forecast for an area versus what's happening at your specific location. Installing an onsite weather station gives you accurate weather conditions at your fingertips.
Cellular vs Wi-Fi Communication for Remote Location Monitoring
Reliable data transmission even in locations off the beaten path
Wi-Fi weather stations transmit data via the available wireless network. Remote or rural locations often do not have reliable Wi-Fi reception. If Wi-Fi is spotty, unavailable, or power is wiped out by a storm sweeping through the area, you lose the ability to access your weather station data when you may need it the most.
A cellular weather station provides a solution to the common problem of monitoring weather at a remote location. When choosing a commercial-grade weather station, there are significant benefits to selecting one with cellular communication and a cloud-based portal for viewing and managing data. Cellular weather stations are more dependable for distant sites providing an autonomous system that works anywhere there is cellular network coverage.
Online Ordering Experience
Ordering your weather station can be a frustrating experience. With an array of sensors, multiple mounting options, and various data plans and accessories to choose from, shopping for your weather station is not always straightforward and almost never as simple as merely clicking "Add to Cart". We walked through the online shopping experience for each weather station to evaluate elements like ease of ordering, clear and readily available information, and approximate time involved to complete purchase. Online shopping time includes navigating the website, selecting desired sensors, modems if applicable, and a data plan.
| | Onset Basic Weather Station | Vantage Pro2™ ISS with 24-Hr Fan Aspirated Radiation Shield | KestrelMet 6000 Cellular Weather Station |
| --- | --- | --- | --- |
| Online Shopping Time | 20 minutes | 45 Minutes | 5 Minutes |
| Likeliness To Call Customer Service Post-purchase | Very Likely | Somewhat Likely | Not Likely |
| Installation Time | 1 Hour | 1 Hour | 20 Minutes |
HOBO Onset MicroRX Weather Station
Weather Station Kit vs Build-Your-Own Station
There are a few places on HOBO's website to begin the search for your weather station. There's a chart as well as a list of different models with the option to build your own system. At first, we decided to go with the Onset basic weather station kit because it seemed the most direct way to choose the full weather station as opposed to the build-your-own approach. This kit starts at $1,522. The basic weather station kit includes the RX2100 Data Logger, a Temperature/Relative Humidity (2m cable) sensor, radiation shield, and a Davis Wind Speed and Direction sensor. You must also select a data plan and a rain gauge at additional cost.
After realizing the kit did not include a barometric pressure sensor and that would also need to be added for $249, we decided to try building the station from scratch. Whether you're going to get a kit or build your own, it's a good idea to call customer service first and discuss what you're looking for in a weather station. They can point you in the right direction to start which will save you time.
Now that you've got all your sensors, it's time to add the data plan and a rain gauge (US Standard) with the final price $1,706. Mounting is optional at additional cost.
There are options to customize the weather station such as adding additional water level sensors, energy sensors, environmental sensors and accessories. There are quite a few choices, options, and components to sort through before being able to place an order for this basic weather station kit.
Important Note: Most professional-grade weather stations above $1000 come with an aspirated fan as standard. An aspirated fan continuously moves air along the temperature and humidity sensors resulting in more accurate measurements. The Onset basic weather station does not include this feature and aspirated measurements are not available with the Onset product platform. More on feature comparison below.
Wireless Vantage Pro2™ ISS with 24-Hr Fan Aspirated Radiation Shield (#6323)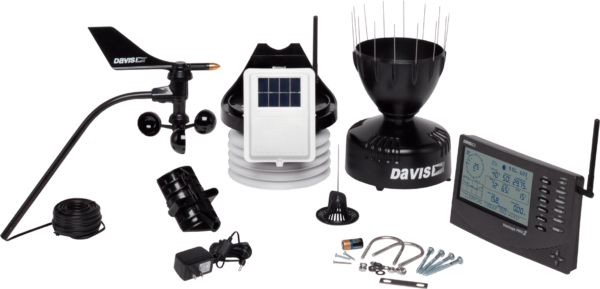 The Vantage Pro2 with 24-Hr Fan Aspirated Radiation Shield allows you to select either the US or Metric version. The website does not give you an option to select mounting and add to cart from the main drop down on the product page but you can find it by scrolling to the bottom or by searching accessories.
You can add WeatherLink Live to stream live weather data over Wi-Fi to the Cloud for $250.
The Vantage Connect gateway ($895 + annual plan) uploads data to the WeatherLink Cloud via cellular connectivity. It's difficult to tell at first that you need to purchase the modem separately for cellular communication capabilities. Once you select the modem, you can then review data plan options.
KestrelMet 6000 Cellular Weather Station

The KestrelMet 6000 ($1,299) is packaged as an all-in-one unit meaning that you don't need to select environmental sensors or a modem. You're given the choice to select the SIM card for the cellular carrier, Verizon or ATT, and lists optional mounting as an add on – all from the top of the main product page. No scrolling involved. They advertise a free data plan for the first year as opposed to the comparable weather stations which offer data plans at additional cost. It's fairly clear what comes with your purchase at the listed price.
Set Up & Installation
Siting for your professional weather station involves a bit of planning ahead to make sure you find the right spot. Finding the proper place for permanent installation ensures that your weather station will perform at its best, get the most accurate measurements, and achieve optimal solar-powered battery charge. Once you've picked the perfect place for installation, what can you expect in terms of actually setting it up? Here's a quick rundown:
| | Installation Time | Parts & Assembly |
| --- | --- | --- |
| HOBO MicroRX Weather Station | 45+ Minutes | Up to 10 inputs for sensors – assembly required for attaching sensors |
| Davis Vantage Pro 2 Plus | 60+ Minutes | Requires assembling the anemometer by attaching spin cups, leveling of the sensors, running wire through the sensors, and connecting cables to the SIM card. |
| KestrelMet 6000 | <20 Minutes | Unit arrives pre-assembled in the box. You'll need to attach the bird guard to the rain gauge, and the anemometer to the base. No wiring required for installation. |
In general, installing a weather station can be a lengthy process. Because the KestrelMet 6000 base unit comes almost completely assembled, the set up time is reduced significantly.
Weather Station Data Plans
The HOBO MicroRX Weather Station has 10-minute connection update rates via 4G cellular data plans. There are several options for data plans including both US and international coverage depending on your needs:
US Standard ($250)
US Only Basic ($150)
Global Standard ($250)
Global Basic ($150)
The Vantage Pro 2
The Vantage Connect for Wireless Stations can be purchased for $895 plus a one-time activation fee of $30 and requires an annual service plan. This operates on GSM, 2G-3G for installations outside the US.
Data uploads are every 5, 15, or 60 minutes depending on which annual service plan you select. The annual service plan rates are:
$240 for 5-minute plan
$180 for 15-minute plan
$120 for 60-minute plan
KestrelMet 6000
The KestrelMet 6000 is the clear winner when it comes to data plan pricing. Your weather station purchase comes with a whole first year of data communication at no cost. Yes, the data plan is free for a year. After that, there are low-cost annual plans offered for $50/year. Data upload frequency is every 15 minutes.
Weather Station & Data Plan Cost
We looked at total cost at purchase based on 15 minute interval data plan.
| | HOBO MicroRX Weather Station ($1,556) | Wireless Vantage Pro2 ($710) | KestrelMet 6000 Cellular Weather Station ($1,299) |
| --- | --- | --- | --- |
| Data Plan Cost | $150/yr | $220/yr | Free |
| Modem Activation Fee | N/A | $895 w/ $30 One Time Fee | N/A |
| Online Dashboard | $48/yr | Free | Free |
| Year 1 Cost | $1,706 | $1,855 | $1,299 |
| Year 2 Cost | $198 | $220 | $50 |
Weather Station Features & Sensors
| | HOBO MicroRX Weather Station ($1,556) | Wireless Vantage Pro2 ($710) | KestrelMet 6000 Cellular Weather Station ($1,299) |
| --- | --- | --- | --- |
| Wind Speed & Direction | ✓ | ✓ | ✓ |
| Temperature | ✓ | ✓ | ✓ |
| Humidity | ✓ | ✓ | ✓ |
| Barometric Pressure | ✓ | ✓ | ✓ |
| Rainfall | ✓ | ✓ | ✓ |
| Fan-Aspirated Radiation Shield | Not Available | 24 Hour | 24 Hour |
| Solar Radiation | ✓ | ✓ | ✓ |
| Backup Battery | Additional Cost | ✓ | ✓ |
| Online Portal | Additional Cost | Included | Included |
| Mobile App | Additional Cost | ✓ | ✓ |